Wow. It's been a really big year for the Overview Bible Project. Thank you all so much for reading, subscribing, and sharing the things Laura and I are doing here.
Given all that went down, I figured I'd share a few thoughts on two things:
What happened last year
What I learned (and what you can learn, too)
Prologue (or, what happened in 2013)
I started writing summaries of the books of the Bible in late summer of 2013, and on October 20 I published the first blog post on OverviewBible.com. Thirty-four people showed up to read what I wrote that day.
2013 was a year of ramping up for me; that is, I was laying up a lot of content without really trying to get people to look at it. And of course, there wasn't a lot of traffic.
2013 traffic:
29 visits/day
18 visitors/day
My most popular blog posts of 2013 were Advent-related, most of them involved me pedantically picking apart Christmas carols and traditions:
Wise men, wizards, and Nativity-scene myths | 177 views

"O Holy Night": are the lyrics biblical? | 164 views
Meh. 2014 was a lot more fun!
2014 at a glance
It's hard for me to think of this past lap around the sun as just one year—a lot has happened. Laura left her job at Logos Bible Software. I took a job at David C Cook. We left the gloriously overcast Pacific Northwest for the miserably sunny Colorado Springs. (We love it here, but we kind of hate direct sunlight.) We joined a church planting team. Two of Laura's sisters got engaged and one of those sisters got married.
On top of all that, there was the Overview Bible Project.
Most-popular articles of 2014
My infographics get all the shares and publicity, but the most-read post was just answering a common question:
Best moments of 2014
The year was full of notable moments for me and Laura, but a few stand out as being especially cool for OverviewBible.com:
I finished my overviews of every book of the Bible (Jan. 31). This was a big undertaking: I wanted to write a high-level summary of each book of the Bible and explain how it fit into the Bible as a whole. This took me about seven months in my spare time.
I made my first infographic (Feb 15). This was my first big stab at graphic design—ever. I'm surprised it got as many shares as it did (almost 500), because the design is obviously amateur.
Laura and I made our first ebook together, The Illustrated Guide to the 12 Apostles (Aug. 9). To date, the free ebook has been downloaded by 785 people.
We got some wicked press, mostly for ourinfographics, including:
It's not really on the website, but I did start writing for Bible Study Magazine, which is a lot of fun.
Weirdest moment of 2014
I don't think I'm famous enough to have really bad moments yet. Only one hateful comment, no hateful emails, no hateful tweets. Again, this is probably because I'm flying below the radar. ;-) Thanks for being great sports! But one really odd moment stands out this year:
My "free app." This was hilarious. I made a set of free Bible icons, which was just a simple .zip file download with a ton of .PNGs. It was a slow news day in Texas and the Houston Chronicle thought it made a cool story (thanks, John!). Then things got really weird: somehow through the media grapevine Examiner.com got the idea that I had created a free app. The story is especially funny because it describes the imaginary app's features—wha?  Bro, IDK.
Things are about to get a lot geekier
This has been high-level stuff thus far. If you think that was boring, well, you might want to stop reading now and go look at something way more interesting.
But if you're interested in seeing my stats and getting a look at how we pulled some of this off, read on. Again, if  you're interested in starting a blog or improving yours, you might find this helpful. If not, go ahead and skip to the special thanks. ;-) 
My expectations for 2014
I started this blog with three big objectives in mind:
Promoting Bible literacy
Keeping myself in Scripture
Attracting Bible geeks
Along those lines, I had three goals for 2014:
Complete summaries for the books of the Bible
Publish one free ebook
Grow my email list to 1,000 subscribers
You already know that the first goal was knocked out by the end of January. As to the second, Laura and I teamed up to make not one, but three ebooks. We exceeded goal number three as well, which takes us into our first topic …
Growth snapshot
Now let's look at the growth overall:

For the most part, the stats are looking good! According to Google Analytics, we had:
129,403 visits from
102,717 people, totaling in
270,791 pageviews
Woah, more than a quarter million views? Thanks for reading, folks!
That comes to an average of about 355 visits per day. However, the year started off super, super slow (the blog was brand new). Here's a look at the last quarter's stats:

54,638 visits from
45,517 people, totaling in
143,193 pageviews
So about 42% of my traffic from last year was just from the past three months.
But that's just blog traffic. In February, I started offering email updates. Remember, my goal was to get 1,000 email subscribers. Here's what happened instead: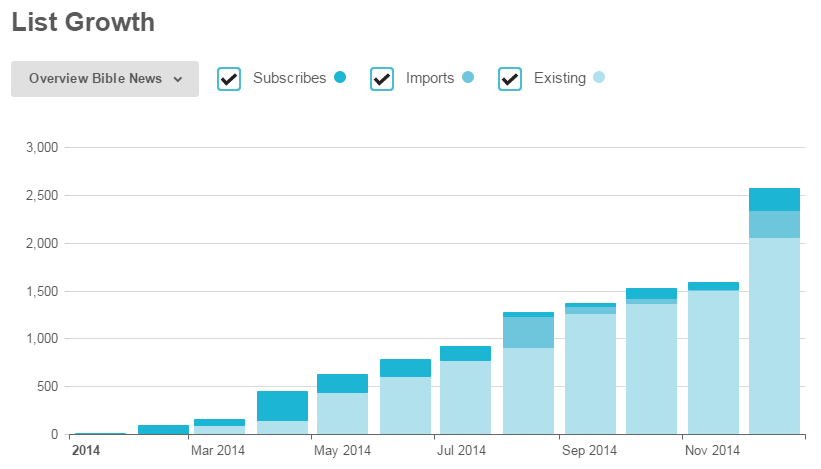 Now, that graph's a little deceptive: I actually have 2,072 subscribers. I have no idea where the extra 500 are coming from, but they're not getting emails from me. ;-)
In the business world, this is nothing. But in the Bible-geek-trying-something-out-in-his-spare-time world, this is a really exciting thing to see. Again, thank you for subscribing.
(By the way, if you want to start getting these newsletters, you can join here and get a free ebook!)
Now for a few things I learned
I've been blogging for companies (and as an absurdity outlet) for years, but this past year was when I really focused on building an audience. If you're a blogger, or thinking about becoming one, here are a few things I learned that you might like to know.
1. Email is the main audience success measure
Not Facebook likes, not Twitter followers, not pageviews. Why? Because these are the only people I can really count on communicating with. Facebook and Twitter are so time-sensitive: if you're not online at the right time, my post gets buried and we totally miss each other.
Plus, your email subscribers are the people who have seen enough value in your work to give you their addresses. It's like getting a girl's number: they've made it clear they want to spend more time with you, hear more of what you have to say, and stay in the know.
How to start growing an email list:
Get a MailChimp account. If you're starting out as small as I did, it'll be free.
Get a sign-up form on your site.
Give people a reason to sign up (more on this later).
2. Every post should be a contribution
One weird thing about this blog is that there's almost no new information here. The Bible has been around for a while, and there are several places to go online to find the information inside. I'm not trying to make any discoveries. I try to stick with what the Bible says (as best as I can).
So if there's nothing new to see here, why do people keep showing up? I can't give you quantitative answers on this, but I think it's because of the way it's presented. Of the five most popular posts of 2014, four are infographics that make the subject matter especially easy to digest.
My goal in writing blog posts is to help people learn and remember in about 3 minutes what takes me hours or days to research. Sometimes that means using an infographic to help visual learners. It almost always means there's an element of humor.
Bottom line: every post should contribute something, whether new information, or a new take on old information.
How to make every post a contribution:
My method is to write every post with at least one person in mind. For example, I'm writing this one for my friends Brian and Robb. A few more of you will enjoy this information, too, but I know they're the ones who have had conversations like this with me over the past few months. As long as I'm writing for someone, I'm making some kind of contribution—the content is a gift written specifically to them, which they won't find anywhere else.
3. Infographics are backlink gold
They're not necessarily the best-ranking material (since Google isn't indexing all the words in them), but people love to share these bad boys. If you ever find yourself writing a post and wishing you had a whiteboard, your material could probably support an infographic.
I've found that other bloggers LOVE these. Most of them know that infographics have a lot of share potential, but not everyone has the means to make them. If you can make them, though, you have something that other big-name bloggers will probably love to share.
How to get backlinks:
If you make a unique piece of content, there's a good chance you can find someone else out there who has written in a similar space. If that someone has a well-trafficked blog, it doesn't hurt to reach out and let them know you've made some interesting content. Don't be too pushy or grabby: I normally write a simple email with the following points:
I made something.
I bet you and your readers would enjoy it because you made something similar.
Hope you enjoy, and you're welcome to share it if you like.
Obviously, you don't want to wear out your welcome. But if you're providing other bloggers with great content for their audience, you can end up growing some nice relationships.
4. Give content away
More than 400 people joined my email list after the Huffington Post and Blaze featured my infographic on Jesus' genealogy this month—just because I set up a simple page where they could download the infographic for themselves. In the past year Laura and I have given away three ebooks, four infographics, an icon set, and even an Excel spreadsheet with Bible data (don't laugh: that got about 150 downloads).
My advice to bloggers: be givers.
If you write an awesome blog post, find a way to give it away. This is a great way to serve your readers, and a smart way to grow an email list of people who love to hear from you.
How to give content away:
Offer your material in downloadable form (I usually use .zip files or PDFs). I upload that media to WordPress, then set up an email capture form that redirects to that file upon completion.
But what content should you be giving away? That depends on your audience. My most-downloaded content has been PDF ebooks.

Special thanks
Enough about me. It's time to thank you. Thanks for reading, sharing, subscribing, shooting me encouraging emails, and making this a super fun year. I'd also like to thank a few people who especially influenced the year for me.
Laura Kranz: For the awesome artwork, sanity-checks, and ideas. You'll be hearing from her about something special within the next few days. (Sorry, no mushy stuff this time.)
Nate Smoyer: For introducing me to some awesome collaborators, a wealth of PR hacks, and sometimes believing in my content more than I do.
David Davidson and Tyrel Tjoelker: For holding my hand into the world of CSS and PHP. I wanted to make my own WordPress theme, and they spent a few weekends with me helping me get off to a strong start.
Craig T Owens,  Dr. Ken Berding, Jayson Goff, and Davette Bishop: For so many encouraging emails, shares, interviews, and prayers.
Trevin Wax and Shea Houdmann: For inspiration and example. In a world of Christian rage-bloggers, these gents tend to put Jesus first and not just try to capitalize on controversy.
Art Pinney: For turning the Overview Bible Project studio decor up to eleven with this epic flag! If you want one just like it, you can get your own here. That's not an affiliate link: I just really like Art's work. =)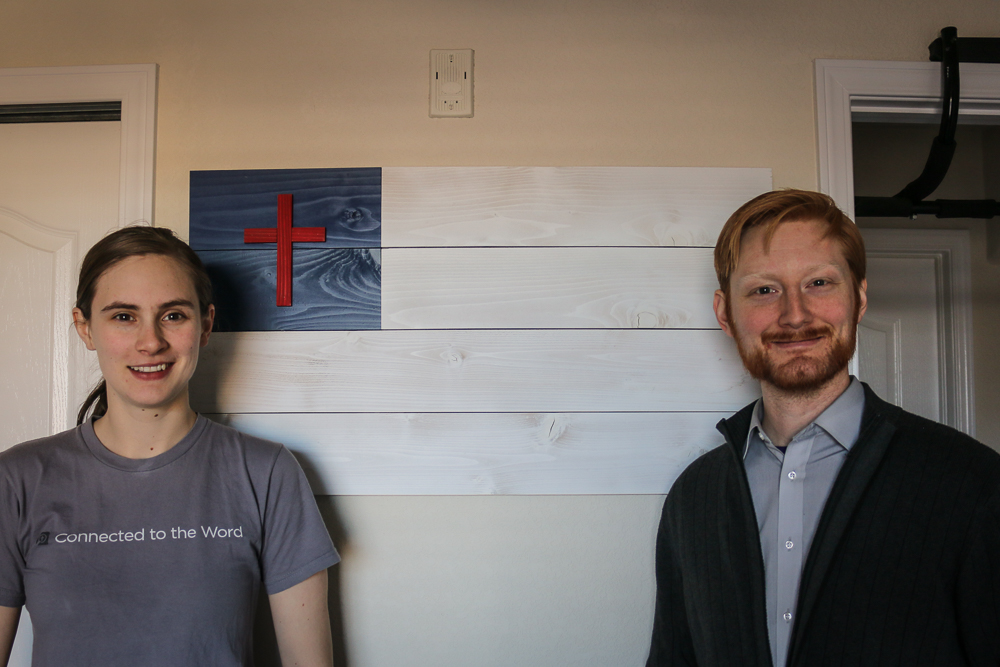 Happy new year, everyone. Here's to knowing God and his Word a lot better in 2015!