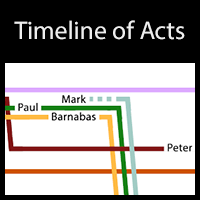 Confession: I've always struggled with the timeline of Acts.
It's all the moving around. Most Bible narratives take place in one corner of the Near East. But in Acts, several major characters loop-de-loop their way around the Roman empire.
The first few times I read Acts, all the new city and province names just blurred together in my mind, and that made it even harder to follow the story.
But a big-picture framework makes it easier to deal with the details. So here's a timeline of Acts with the main things we need to know:
Who the major characters/locations are
Where their stories overlap
The major events that drive those stories