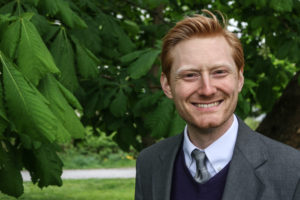 Hey, there. I'm Jeffrey Kranz, and I'm the general writer, designer, and comment moderator around here.
It's nice of you to stop by! I'll assume that you're on this page for one of two reasons:
You found your way to this website and want to know more about who's running this rig.
You're my trollsome brother hoping to find less-than-flattering photos of me. Nice try, Tim.
I know how tiresome it is to read a longer-than-expected "About me" page, but I also know how disappointing it is to read a clipped one. This seems to be one of those rare chances I get to please everybody.
The short bio:
I grew up loving to study the Bible (the whole thing). It's a captivating and important set of documents, and I run this site to help others fall as deeply in love with it as I have. This site is a hobby of mine. By day, I run Overthink Group, a marketing agency.
The long bio:
Jesus Christ won my allegiance at the incredibly seasoned and worldly-wise age of 10. (Joke's on him: now he has to deal with this clown.)
I prefer to stick to what the Bible states on its surface. That means I don't spend much time on hot-button issues. I'm more interested in helping you get familiar with the whole Bible so you can better think through those issues yourself. The Bible is a vastly misunderstood book—partly because it's not the easiest book to understand. It's full of interesting stuff that nobody's fighting about it. That's just sad.
About family: I'm married to a brilliant artist named Laura. We met at work, and we've been married since 2013. As of 2015, we're also co-founders of Overthink Group, a content marketing agency.
About education: I studied marketing and management at a tiny school named Tennessee Temple University in Chattanooga, Tennessee. (But they went belly-up , sooooo I prolly won't be giving any commencement speeches anytime soon.) I really enjoy marketing, especially of the content/inbound variety.
Now, if you're one of those people who's into personality types and strengths and favorite foods and stuff, here's the dump:
Myers-Briggs: ENTJ. Say what you will about the MBTI, but it sure is an effective way to start a conversation.
Enneagram: Still trying to figure that one out (aka putting off reading a book about it). It's looking like I'm a pretty healthy Type 1.
DiSC: Inspirational
My favorite book of the Bible is Ecclesiastes.
I really don't like cake (though I'll make exceptions once in a while).
That's probably more than you need to know about me, but now you have an idea of what kind of guy you're dealing with here.
Want to talk? Shoot me an email: info [at] overviewbible [dot] com.