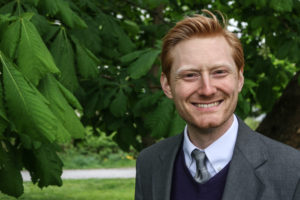 Hey, there. I'm Jeffrey Kranz, and I'm the general writer, designer, and comment moderator around here.
It's nice of you to stop by! I'll assume that you're on this page for one of two reasons:
You found your way to this website and want to know more about who's running this rig.
You're my trollsome brother hoping to find less-than-flattering photos of me. Nice try, Tim.
I know how tiresome it is to read a longer-than-expected "About me" page, but I also know how disappointing it is to read a clipped one. This seems to be one of those rare chances I get to please everybody.
The short bio:
I'm a Christian who grew up loving to study the Bible (the whole thing), and I want everyone else to fall (at least) as deeply in love with it as I have. I'm married to a brilliant artist, whom I met when we were both peddling Bible software on the interwebs. My wife and I also run Overthink Group, a marketing agency for Christian organizations. I take God, coffee, and little else seriously.
The long bio:
I'm probably a solid mix of Kermit the Frog, David Tennant's 10th Doctor, Ben Linus, and Wally West (the third and best Flash).
I prefer to stick to what the Bible states on its surface. That means I don't spend much time on hot-button issues. I'm more interested in helping you get familiar with the whole Bible so you can better wrestle through those issues yourself.
Besides, I think the Bible is full of interesting stuff that we overlook because nobody's fighting about it. That's just sad.
I was saved at the age of 10, after spending a lot of time reading the Bible. It registered that Jesus is Lord, and therefore, I owe Him my allegiance. I am forever changed. You can ask my family . . . well, the ones old enough to remember me when I was 10.
About family: I'm married to a brilliant artist named Laura. We met at work, and we've been married since 2013. We work together on a lot of Overview Bible Project stuff, which is pretty fun. As of 2015, we're also co-founders of Overthink Group, an agency that helps organizations with marketing, communications, and branding.
I studied marketing and management at a tiny (now-closed) school named Tennessee Temple University in Chattanooga, Tennessee. I really enjoy marketing, especially of the content/inbound variety.
Now, if you're one of those people who's into personality types and strengths and favorite foods and stuff, here's the dump:
I'm an ENTJ, and I make a great third impression.
My favorite book of the Bible is Ecclesiastes.
I'm probably part Muppet.
I really like pizza.
I really don't like cake (though I'll make exceptions once in a while).
I like superhero stories, but Superman is kind of the worst.
That's probably more than you need to know about me, but now you have an idea of what kind of guy you're dealing with here.