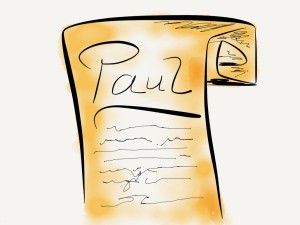 Well, the documents have been around for more than 1,900 years, but they all have pages on this site as of this week. I liked Paul before I began overviewing his letters. Now I really love the man:
Paul is orderly. He's a disciplined, intentional, organized writer. He states why he writes, and his letters usually fall into neat chunks: doctrine, application, and logistics. In other words, he goes easy on those of us who try to outline his material.
Paul is smart. He knows the Old Testament. He knows the cultural obstacles his churches face. But most importantly, he knows the risen Lord Jesus Christ. And he's all about spreading that knowledge, too.
Paul is humble. The guy had authority, but he's far more concerned with the Lord and His church than with himself. Paul calls himself the foremost of sinners (1 Ti 1:15) and the least of all saints (Eph 3:8), even though God used him to accomplish so much.
Paul is firm. He doesn't sit idly by and let others disrespect his God. He admonishes churches for immorality (1 Co 5:1–2), false doctrine (Ga 3:1–3), and laziness (2 Th 3:11–12).
Check out the overview of all Paul's epistles, and then drill down into the individual books. Then read and study the letters for yourself! I'm not sure which of Paul's letters is my favorite. It might be Colossians, due to its emphasis on who we are in Christ. I also really like Titus' model of a counter-cultural local church. Of course, First Corinthians approaches a broad array of church topics, from church factions to spiritual gifts to resurrection.  
Which of Paul's epistles is your favorite?