How Solomon sees his bride [infographic]: figures of speech in Song of Songs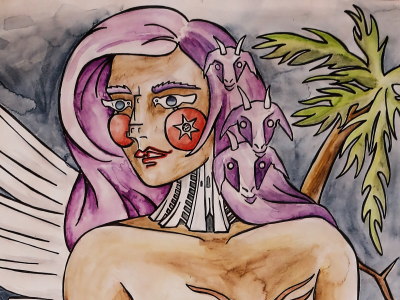 Song of Solomon is the greatest love song in the Bible with the weirdest compliments you'll ever read. Thighs like jewels, hair like a flock of goats, cheeks like pomegranate … it's not exactly what I'd call The Christian Single's Playbook. And how is that not a thing yet?
I don't know why, but the Song of Songs has been getting crazy attention this year. There was a movie based on it: The Song (which I haven't seen). Matt Chandler used it for a dating blueprint: The Mingling of Souls
. (Heads-up: that's an affiliate link and I get like two bucks if you buy that book. Moving on.)
Now I'm adding to the Song of Solomon contentfest. I went through the biblical poem and made notes of all the figures of speech. Then I gave those notes to my favorite artist (and wife) Laura. Then she mashed up several of them into one art piece, which I used for this infographic. (You can see Laura's piece here.)
DISCLAIMER: At first glance, this might look like nudity. But I promise it's just gazelles.
How Solomon sees his bride: figures of speech in the Song of Songs
Just so you know, this illustration doesn't include all the figures of speech.  That'd be a crowded art piece. But I've put my list at the bottom of this post.

All the figures of speech in Song of Solomon
This infographic only addresses the bride in part—but the Song of Songs is full of figures of speech the bride and groom use to describe one another. I found 67 instances in just 8 chapters! They wouldn't all fit in the illustration, but I did list them out below.
Metaphors for the bride in Song of Solomon
Eyes is doves (1:15)
Rose, lily (2:1)
Dove (2:14; 5:2; 6:9)
Lily among brambles (2:2)
Eyes are doves (4:1
Lips drip nectar (4:11)
Tongue is honey, nectar underneath (4:11)
Locked garden, locked spring, sealed fountain (4:12)
Orchard of pomegranates, henna, nard, saffron, calamus, cinnamon, frankincense, myrrh, aloe, spices (4:13–14)
Fountain, well, stream (4:15)
Belly is heap of wheat surrounded by lilies (7:2)
Navel is a rounded bowl with mixed wine (7:2)
Eye are pools (7:4)
Head is crown (7:5)
Wall (8:10)
Similes for the Bride in Song of Solomon
Complexion like tents (1:5)
Taste in jewelry like Pharaoh's horses (1:9-10)
Hair like flock of goats (4:1;
Love greater than wine (4:10)
Scent of oils greater than spice (4:10)
Garments like Lebanon (4:11)
Teeth like flock of shorn ewes bearing twins (4:2)
Cheeks like halves of a pomegranate (4:3; 6:7)
Lips like scarlet thread (4:3)
Neck like tower of David, rows of stone, thousand shields hanging on it (4:4)
Breasts like fawns, gazelles (4:5; 7:3)
Self like dawn, moon, sun, army with banners (6:10)
Beauty like Tirzah, Jerusalem (6:4)
Beauty like army with banners (6:4)
Hair like flock of goats (6:5)
Teeth like flock of ewes (6:6)
Thighs like jewels (7:1)
Neck like ivory tower (7:4)
Nose like defense tower (7:4)
Hair like purple (7:5)
Breasts like clusters of grapes (7:7, 8)
Stature like palm tree (7:7)
Breath like apple scent (7:8)
Mouth like best wine scent (7:9)
Breasts like towers (8:10)
Metaphors for the groom in Song of Solomon
Name is oil (1:3)
Sachet of myrrh, cluster of henna blossoms (1:13-14)
Apple among forest trees (2:3)
Produce is sweet fruit (2:3)
Love is banner (2:4)
A young stag, gazelle (2:8, 17)
Head is gold (5:11)
Lips are lilies dripping liquid myrrh (5:13)
Body is polished ivory with sapphires (5:14)
Legs are alabaster columns set on bases of gold (5:15)
Similes for the groom in Song of Solomon
Love greater than wine (1:2)
Head like doves beside streams of water, bathed in milk (5:12)
Cheeks like beds of spices, herbs (5:13)
Arms like rods of gold set with jewels (5:14)
Appearance like Lebanon, cedars (5:15)
Like a gazelle (8:14)
Like a young stag (8:14)