Thankfulness is an important quality for all people, especially for Christians.
Put simply, thankfulness is recognizing good things that have happened to you, and acknowledging the people who made those good things happen.
In the Bible, thankfulness is recognizing who God is and what he has done.
(Usually.)
I've written a bit on the topic of thanksgiving: including giving a definition of thanksgiving from the Bible and exploring which book of the Bible speaks about thankfulness most. But I haven't written a great deal about what the Bible says about giving thanks . . . so let's change that. =)
So here's a big list of Bible passages about being thankful. Specifically, I've pulled together Scriptures with either examples of people expressing gratitude or outright instructions to be thankful. (I may have had a little help.)
So here's what we got, folks:
By the way: If you're looking for Sunday school goodies on thanksgiving, check out these lists of craft ideas and coloring pages.
13 examples of thankfulness in the Bible
Here's a list of biblical examples of people showing gratitude.
1. David thanks God for his kingdom
Before becoming king of Israel, David was a wanted man. The current king Saul was threatened by David's popularity with the people, and hunted David across the countryside.
However, God delivered David from Saul and all his enemies, and made David the king of Israel. Under David's leadership, Israel's influence expanded greatly. David became a high king, with the surrounding nations acknowledging him as their ruler.
After Saul's death, David sings a song of praise to God, which includes this line near the end:
You exalted me above my foes;
from a violent man you rescued me.
Therefore I will praise you, LORD, among the nations
(2 Sam 22:49–50a)
The Hebrew for "praise" here actually means an expression of thanks to God.
2. David thanks God for wealth (while giving it back to God)
You probably know that Solomon was the king of Israel who had the privilege of building a temple to the Lord in Jerusalem. (That's why it's called "Solomon's temple.") It was a magnificent, magnificent building.
But Solomon didn't design it: that honor goes to David. Before he died, David made plans for a great temple in Jerusalem. Those plans included a massive fundraising campaign to collect gold, silver, jewels, and supplies for building the temple.
That fundraiser was wildly successful: the leaders of the people gave generously—even out-giving David himself!
David was overjoyed. In response to his people's generosity, he gave a prayer of thanks to God which includes this tidbit:
Wealth and honor come from you;
you are the ruler of all things.
In your hands are strength and power
to exalt and give strength to all.
Now, our God, we give you thanks,
and praise your glorious name.
(1 Ch 29:12–13)
3. The psalmist thanks God for salvation
In the 118th Psalm, the psalmist calls all the people to give thanks to the Lord, then launches into a testimony of how God delivered him (or her) from disaster.
I will give you thanks, for you answered me;
you have become my salvation.
(Ps 118:21)
4. The psalmist thanks God for his laws
Psalm 119 is the crown jewel of the psalter: a long, long ode to the Torah. The psalmist writing this piece extols God's laws over and over and over again, including in the 62nd verse.
Here, the psalmist is proclaiming his dedication to the laws of the Lord. He goes so far as to say he wakes up in the middle of the night to thank God for his laws:
At midnight I rise to give you thanks
for your righteous laws.
(Ps 119:62)
5. Daniel thanks God for wisdom and power
Few characters in the Bible are quite like Daniel. This young man of royal blood was captured in Judah before Jerusalem was destroyed, and taken away to Babylon. Daniel resolves to be faithful to God and his laws, while also striving to seek the good of the city he lives in (Jer. 29:7).
Early in the book of Daniel, King Nebuchadnezzar has a troubling dream. He cannot understand it, and demands that the magicians and wise men of Babylon explain it to him. Nobody can except Daniel—who understands that this wisdom is given to him from God:
I thank and praise you, God of my ancestors:
You have given me wisdom and power,
you have made known to me what we asked of you,
you have made known to us the dream of the king
(Da 2:23)
Daniel is not only given wisdom, but great influence as well. For interpreting the king's dream, Daniel is made the ruler of all Babylon's wise men.
6. The healed leper thanks Jesus
During Bible times, leprosy was a serious problem. A leper had to live outside the community of people, as they were "unclean." Lepers were disgraced outcasts in Jewish society.
But when 10 lepers happen upon Jesus, they call out to him for mercy. Jesus heals them all, but one thanks him for doing so.
The twist: the thankful man is a Samaritan! Even after being cleansed of his illness, he was still someone that the religious Jews would see as an outsider. Yet he still comes to Jesus, a Jew, and thanks him.
He threw himself at Jesus' feet and thanked him—and he was a Samaritan.
(Lk 17:16)
7. Jesus gives thanks before meals
Jesus "gives thanks" before both miraculously feeding multitudes and announcing the New Covenant at the Last Supper.
Then he took the seven loaves and the fish, and when he had given thanks, he broke them and gave them to the disciples, and they in turn to the people. They all ate and were satisfied.
(Mt 15:36–37)
Then he took a cup, and when he had given thanks, he gave it to them, and they all drank from it.
(Mk 14:23)
 8. Jesus thanks God to demonstrate his authority
Right before raising Lazarus from the dead, Jesus thanks God for hearing him. (Though he says it for the benefit of those watching the miracle take place.)
Then Jesus looked up and said, "Father, I thank you that you have heard me. I knew that you always hear me, but I said this for the benefit of the people standing here, that they may believe that you sent me."
(Jn 11:41–42)
9. Tertullus thanks Felix for peaceful governance
When the Jews try to kill Paul, a Roman commander sends him to the governor to have the case examined. The Jews try to frame Paul as a troublemaker, and bring Tertullus, a lawyer, to plead their case.
Tertullus' strategy is to thank the governor, Felix, for a period of peace. He then accuses Paul of disturbing that peace that Felix has maintained.
We have enjoyed a long period of peace under you, and your foresight has brought about reforms in this nation. Everywhere and in every way, most excellent Felix, we acknowledge this with profound gratitude.
(Ac 24:2–3)
What a suck-up.
But still, if your local political leaders are doing a good job in your community, consider sending them a letter of thanks. Their interns will enjoy reading it.
10. Paul gives thanks to God for bread and safety
Paul's ship is about to be wrecked, and everyone aboard knows it. However, Paul assures them that nobody will perish in the accident. He encourages everyone to eat a meal so that they have enough energy to swim for shore.
Before breaking bread, he thanks God in front of all the passengers and begins to eat. His shipmates are encouraged, and eat as well.
[Paul] took some bread and gave thanks to God in front of them all.
(Ac 27:35)
11. Paul thanks God for Christian fellowship in Rome
Paul is greeted in Rome by a group of brothers and sisters who traveled to welcome him to the city. When he sees these people, he expresses gratitude to God.
At the sight of these people Paul thanked God and was encouraged.
(Ac 28:15–16)
12. Paul thanks God for Christian church members and friends
Paul thanks God for the Romans (1:8), the Corinthians (1 Cor 1:4), the Ephesians (1:16), the Philippians (1:3), the Colossians' faith (1:3), the Thessalonians (1 Thess 1:2; 2:13; 2 Thess 1:3; 2:13), and Philemon (4).
He especially calls out Priscilla and Aquilla, who risked their lives for him. Paul says that all churches of the Gentiles are grateful to them (Ro 16:3).
13. Paul thanks God for spiritual gifts
OK, technically Paul thanks God that he speaks in tongues (more than the Corinthians, BTW). But even though tongues is a terrific gift from God, Paul notes that it's not as useful as intelligible instruction.
I thank God that I speak in tongues more than all of you. 19 But in the church I would rather speak five intelligible words to instruct others than ten thousand words in a tongue.
(1 Co 14:18–19)
4 things the Bible tells us to be thankful for
Just for fun, I also made a list of things the Bible calls its readers to be thankful for. =)
1. Thank God for his goodness
He's good, and he's done great things for his people. The writer of Psalm 136 hits this hard:
Give thanks to the Lord, for he is good.
His love endures forever.
(Ps 136:1)
That's the most famous call to thank God for his goodness, but it's a very common theme in the Old Testament. Psalms 106, 107, and 108 open with the same line. When David appoints Asaph over the musicians at the tabernacle, they thank God for his goodness and everlasting lovingkindness. The same thing happens when Zerubabbel lays the foundations of the second temple (1 Chr 16:34; Ezra 3:11).
Which brings us to our second thing to thank God for:
2. Thank God for his lovingkindness
See above! =)
3. Thank God for your local church
Paul tells the Colossians to act toward one another in love and unity. Because Jesus has established peace, and because we are all part of Christ's body, we should be at peace with one another.
Paul encourages his readers to sing to God from a heart of gratitude, and to do everything while giving thanks to God.
Let the peace of Christ rule in your hearts, since as members of one body you were called to peace. And be thankful. Let the message of Christ dwell among you richly as you teach and admonish one another with all wisdom through psalms, hymns, and songs from the Spirit, singing to God with gratitude in your hearts. And whatever you do, whether in word or deed, do it all in the name of the Lord Jesus, giving thanks to God the Father through him.
(Col 3:15–17)
4. Thank God for everything
Thanks, Paul. Just in case we were getting choosey about what to give thanks for . . .
Sing and make music from your heart to the Lord, 20 always giving thanks to God the Father for everything, in the name of our Lord Jesus Christ.
(Eph 5:19–20)
And I should also note that Paul tells the Thessalonian church to thank God in all circumstances. (Even though they were being persecuted for their faith.)
The top books on thankfulness in the Bible
You might wonder, out of all 66 books of the Bible, which one focuses on thanksgiving the most?
Psalms mentions thanksgiving far, far more than any other book of the Bible. However, it accomplishes this by sheer volume. I was  more interested in finding the books with the highest concentration of thanksgiving language (just like how we found the bossiest book of the Bible).
Here's what I found to be the books of the Bible that most frequently mention thankfulness:
(9 mentions in 4 chapters)
The book of Colossians is all about being established in Christ. Paul is writing to the church in the city of Colossae to help them understand who they are in Christ and how they should live as a result. And throughout the book, thankfulness and gratitude consistently emerge as the attitude established Christians should have.
The theme verse of this epistle sums it up nicely:
So then, just as you received Christ Jesus as Lord, continue to live your lives in him, 7 rooted and built up in him, strengthened in the faith as you were taught, and overflowing with thankfulness. (Col 2:6–7)
(16 mentions in 13 chapters)
Although the epistle is primarily about reconciliation between Paul and the church at Corinth, there's a good dose of thankfulness language across this book. The most-quoted examples occur where Paul is discussing generosity and fundraising. Paul tells the Corinthian church that their generosity will bring about a positive end: the recipients of their gift will be thankful to God.
It's an argument that we don't hear so often: but one of the positive effects of our generosity is that it prompts people to praise and thank God. (And they should be grateful to him—he has already blessed us with the greatest of gifts!)
(Sidenote: if you want to learn more about generosity, check out this list of Bible verses on the matter. If you're curious about how Paul and the early church raised funds, here's a helpful article that breaks it down.)
(1 mention in 1 chapter)
Now, to a degree this is cheating. Philemon is only one chapter long, and Paul only mentions thankfulness in his greeting to Philemon: " I always thank my God as I remember you in my prayers …" (Philemon 4). It's the same opening that Paul gives the Colossian church. But I didn't feel quite right about throwing it out of the list, because this greeting is how Paul sets up a very controversial argument.
The book of Philemon is a letter from the apostle Paul to a church leader in Colossae, and a good deal of New Testament scholars think the letter to Philemon was sent along with the epistle of Colossians. Paul is writing to Philemon urging him to embrace a runaway slave as a brother in Christ—freeing him forever. That's a lot to ask, especially since it seems the runaway caused Philemon some damage (vv18–19).
Paul begins this letter by telling Philemon that he always thanks God for the love that Philemon shows to other Christians. He then goes on to ask Philemon to free the runaway on the basis of Philemon's love for Paul (v8).
So although Philemon only mentions thanksgiving once, it's still a vital part of the letter, and therefore keeping its place on the list.
And in case you're curious, here's the chart I made that breaks down the books of the Bible by mentions of thankfulness (or "thanks, or "thanksgiving" per chapter. (Another reason I'm a fan of Logos!)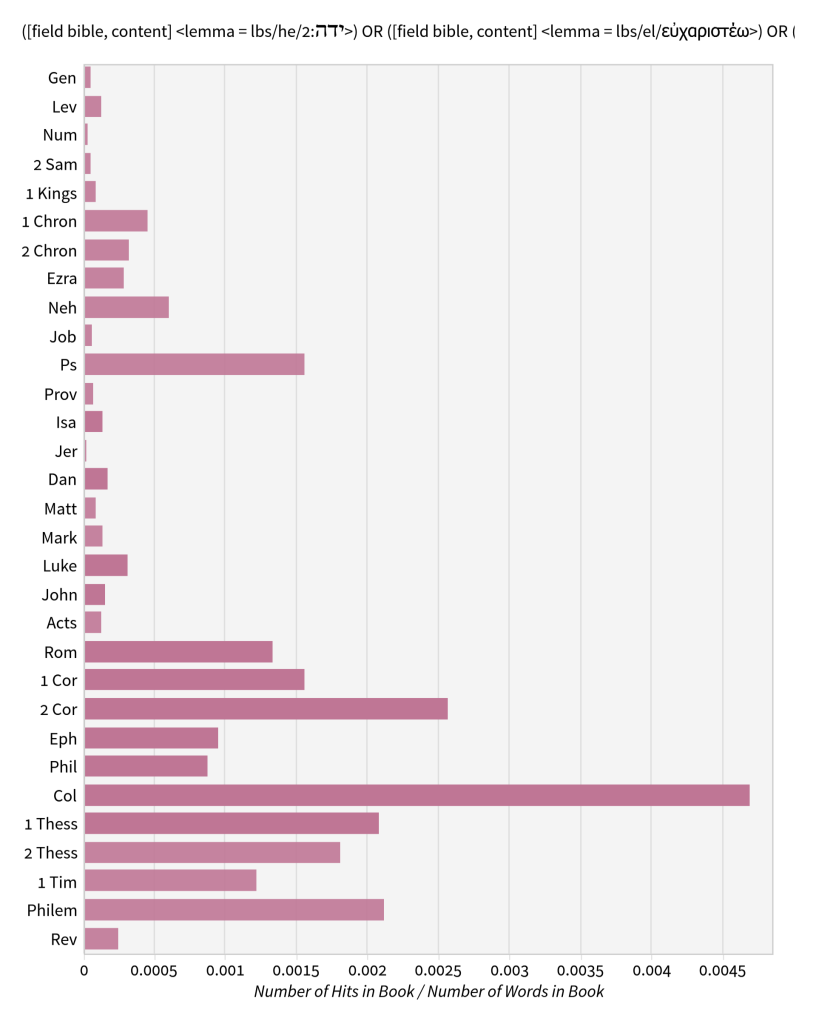 Be thankful: it's important
The Bible has a good deal to say about thankfulness, and it's a trait that children of God should show.
So be thankful!
I used my favorite Bible study tool, Logos Bible software, to do research that made this post possible. If you're a Bible geek like me, you might want to check it out.